Qype: Mexicali in London
London – Shopping – Food & Drink
If there is a Burrito kingdom in London, then this place is its equivalent of Slough.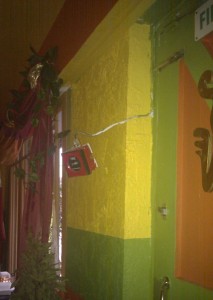 My learned burrito-eating work colleague and I keenly ventured through Soho in search of this place, and he was initially optimistic about it, saying that it had an authentic taqueria feel about it. I mused over whether this was due to the colour scheme, or just because half the lights weren't working, but my ponderings were cut short by the up-front payment process.
From the instant I'd paid it was downhill – there was no chance to peruse the meats available and select. The assembly line workers spooned out a bland looking slap of anaemic chicken purée on top of a 1-grain thick spreading of spicy rice. They dragged it down the line and added shredded iceberg and grated cheddar. I interjected to ask them not to put diced tomato on it, and was challenged as to whether the burrito he was building was mine. Even at the busiest times in Benito's or Chipotlé, there's eye-contact and awareness of whose is whose.
Taking my meal down to the crowded back table area my fears were confirmed – this was the bleakest burrito ever, with no flavour coming from the chicken whatsoever. We borrowed a bottle of garlic-chili sauce from a neighbouring table, and about the only intriguing factor of the meal thereafter was whether one bottle between the two of us would provide enough flavour to get through this meal.
My colleague couldn't bring himself to finish his, and that's a dire indictment indeed. As he drizzled chili-garlic sauce over the few lightly salted Doritos that accompanied the meal I wondered whether I should give Mexicali an extra mark for authenticity of atmosphere, but thought it would be a shame to direct people in here to see the amazing fire alarm button suspended in midair only by its wiring, when the burrito experience was so lacklustre.