London – Eating & Drinking – Restaurant – Spanish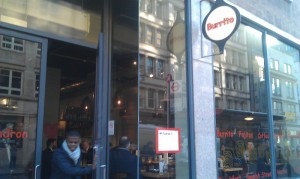 So, from what we can gather, this place is located on the site of a former burrito joint – and its new incarnation is… a Spanish place, which does burritos!
(I'm reviewing this place purely on the strength of its burritos, by the way – couldn't comment on the rest of what's available, although the chicken looked nice from what we could see)
Fans of convenience and thrift will probably enjoy Padron if they work in the neighbouring area, but it's not somewhere that I'd seek out, as its burritos didn't make a lasting impression.  A great sign was that rather than the usual 3 or 4 filling options, Padron offers about 8 different possibilities: the chicken & chorizo option was a breath of flavoursome fresh air.  The rice they used was nicely cooked, without being crunchy or sloppy.  Our table service was speedy enough, without being friendly or memorable – but definitely not bad at all.  And quite keenly priced, it has to be said.
Things you might not like if you're a burrito enthusiast: it was a very sloppy burrito. Whether that's a property of the sour cream they use or some aspect of the sauce, I'm not sure.  They use orange cheese which is a little on the flavourless side.  And the biggie – you only pick the filling and the hotness of salsa you want.  Maybe it's a stupid expectation, but established burrito protocol is that you're given a choice of options, rather than saddled with chopped iceberg, diced tomato, and lashings of sour cream.
Like I said – nowhere near the worst burrito in the world (Mexicali in Soho still holds that lofty title), but certainly makes it worth the walk down to Tortilla in Leadenhall Market.
Probably the most upsetting thing though is that the window writing enticing people in is in Comic Sans MS typeface.  There's just no call for that sort of thing.
Check out my review of Padron – I am mrfrisky – on Qype