It should be clear by now that I'm not a poodle.  At least they seem to learn by repetition.  I seem to keep buying tickets to large-scale comedy gigs and optimistically expecting to enjoy it.
The culprit in this case was the seemingly irresistible opportunity to be an audient at Channel 4's Comedy Gala – a humungous comedy effort put together in conjunction with Off The Kerb (a fairly prominent comedy management company) to raise funds for Great Ormond Street Hospital.  By all accounts the idea was to put on the largest comedy gig in history, and it really succeeded in underscoring why these things don't really work.
The lineup was – it must be said – massive.  On paper, you couldn't go wrong really.

One of the problems of the charity gig is that circuit comics won't use their best material there.  It makes sense of course, particularly if they're currently touring – you don't give away the good stuff, do you?
Over the course of the howevermanyhoursthethingran for the entertainment bill was more or less a continuous onslaught.  Check it out – the evening opened with a full-stage percussive dance extravaganza from the Stomp team (although they've clearly been breeding since I saw them, because there were hundreds, it seemed!), then the comedians cavalcaded out thusly:
Alan Carr
Jason Manford
Jo Brand
Patrick Stewart & Sharon Osbourne via video
Sean Lock
Jonathon Ross
Kevin Bridges
Patrick Kielty
Rocky Gervais & Stephen Merchant via cartoon video
Rob Brydon & Gok Wan
Kevin Bishop via video
Andy Parsons
Mark Watson
Katie Price & Alex Reid
Michael MacIntyre

Bill Baily & Kevin Eldon
Mock the Week crew via video
Christine Blakeley & Tommy Tibbs
Jack Dee
Shappi Khorsandi
Peep Show video
Catherine Tate
Noel Fielding
Gavin & Stacey characters whose names I didn't catch
John Bishop
David Mitchell
Jack Whitehall
Rich Hall
Derren Brown via video
Lee Evans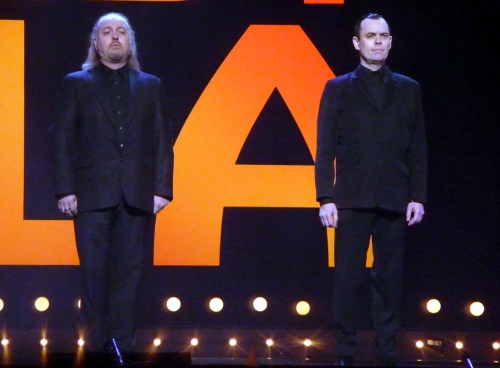 This is going to sound extremely snobbish, but I got the distinct impression that many of the comics were fairly safe in the knowledge that it didn't matter what kind of material they got out for the crowd – they were already on a winning bet because the people in the audience recognised them from the telly.
Noel Fielding's routine was his "standard gala 5" which I know he's been using since at least 2003.  Gok Wan & Rob Brydon put together a fairly contrived & tense sequence, and I spent more time thinking of how much Wan's hairstyle resembled Simon Singh's.  Jonathon Ross spent most of his time talking about people farting on his chat show.
Michael McIntyre was as harmless & enthusiastic as you'd expect him to be – he's very much mainstream comedy's Man Of The Moment, and he is exceptional at what he does, even if there's next to no substance to it whatsoever.  Perhaps I just found it difficult to engage with a routine on observations about the inanity of various things you see on daytime TV.  In his defence, he'd probably picked that set for a safe-bet of a TV-watching audience.
The most controversial points of the evening were when Katie Price & Alex Reid took the stage, and before they'd said anything the crowd started booing them.  It wasn't until I was able to get a signal to Wikipedia that I even knew who either of them were, and I'm still scratching my head about what the hell they were on the bill for…  still, irrelevant as they were there was a minor comedic moment as McIntyre took the stage after them, made a derogatory jibe about Alex Reid, and then realised that Reid had come back on stage and was chasing him around – well played, that man.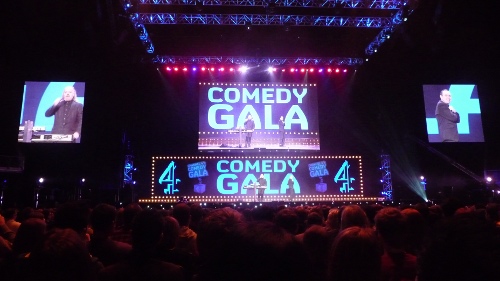 Mark Watson was very good I thought – he came across as a cardigan-wearing nice boy, and seemed to make quite a good impression on behalf of what The Guardian's decided to label "middle class comedians" on the C4 crowd.
Andy Parsons was, from memory, the only comic to really get stuck into any material on politics – he tackled it quite well, although again, being "a bloke wot talks about politics from off the telly" he didn't have too much credentialuar establishment to do.  That's not even a phrase, is it.  I noticed that at one point, just after he'd made a joke mentioning Robert Mugabe, quite pretty mid-20 year old girls sat impassively for a second, then turned to their boyfriends and muttered something, at which point I heard in stereo the sound of guys trying to explain who Robert Mugabe was, and then in the case of the one on my left, what Zimbabwe was.
Jo Brand stuck to her usual fodder about sex, bodily functions, and her being overweight – which is a shame, because I think she's got a lot more to offer comedically.
One thing which seemed quite common for the acts to mention was the size of the room, and as an audient you sort of take it for granted a bit that an entertainer comes out & entertains, and gets on with it.  Comedians, however, in the main do not play stadium gigs and contrasting the O2 centre (20,000 capacity) with the normal circuit venues (between 30 and 100 people usually) it may explain the sense of stunnedness that some of them had.  Not performance-affecting, just an awe thing.
For me the standout highlight acts of the evening were Rich Hall and Bill Bailey.  Rich Hall carried his curmudgeonly bewildered force of personality thing into the space, hounding the audience with the ludicrousness of America and offering an unspoken cry of "why does it all have to be so damn stupid and difficult?".
Bill Bailey looked as if he was going to reprise one of his old standby pieces, but then took us off in a slightly different and hilarious direction (with the help of The Actor Kevin Eldon) with a Kraftwerk-esque rendition of Leonard Cohen's "Hallelujah".  Makes sense I guess, as everyone else in the world seems to have done a cover of it.
The night didn't have a single compere, but rather the compering duties were busted up between Alan Carr, Jonathon Ross, Rob Brydon, Jack Dee, and David Mitchell – who each introduced a brace of 4 or 5 acts.  I find Carr completely pointless, Brydon very funny and capable, Dee excellently disparaging yet respectful where it's needed, and Mitchell's just an all-round legend.  He pondered at one point what he'd been included on the bill for, as he's not a standup comic, and mused on the need to inject a sense of middle-class respectability into such an event.  Ross I don't usually rate at all and find generally self-obsessed and puerile, however he made me laugh quite a lot when he spontaneously decided to get a world record for the largest number of people shouting the "C word", by instructing the capacity crowd of the O2 to do at his count of 3.  I suspect a goodly number of them abstained, but it would have been an impressive thing to have captured a recording of.
The headliner of the night was perplexingly popular physical observational comic Lee Evans, and when he took stage I wondered if the crowd had mistaken him for Barack Obama, or something – the roar was deafening.  Evans was allotted far longer than the other acts, performing a mimed musical-sync piece featuring a jazz trio, then an energetic but quite ordinary observational set, and finishing with a comedy-choreographed mime to the tune of Bohemian Rhapsody.  What I don't get is why there were people crying with laughter at any of this.  The standup material was inconsequential 90's-style "have you ever noticed how" stuff, distinguished only by Evans' constant mugging and contorting to punctuate each joke – presumably the punters felt at ease as it meant they didn't have to think about when they were meant to laugh?  The Bohemian Rhapsody thing was ok I guess – you know the score: making a series of unlikely or rude mimes to fit with each word of the song in an predictably hilarious manner.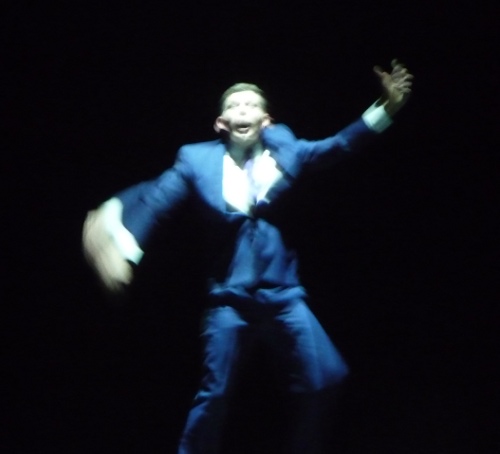 Thankfully, it finished.
Following that, and the inevitable standing ovation, Evans was presented by Jack Dee with some kind of Channel 4 comedy award, which Evans then attempted to auction off to the crowd in an attempt to raise more money for Great Ormond Street Hospital.
If you're interested in watching the gala, there are DVDs available, or you could just scour Youtube for it, as judging by the near-constant sea of glowing screens I think pretty much the entire thing was captured on mobile phones.
Having more or less resolved never to buy another ticket to a charity comedy gig, just today I've picked up a ticket for Reprieve's 2010 comedy fundraiser.  And it looks totally, totally awesome.