This is largely inspired by last night's gig, Ade Edmonson & The Bad Shepherds – I turned to The Puzzler and said "How far do you reckon that distance is between me & Ade?", and he said "About 50 feet?".  And almost instantly I came up with this list.  And technically it was before midnight, so it's still a Tuesday list.  Alphabetical order, sort of.
Ade Edmonson – primarily famous for his epic stint as Vyvyan in seminal share-housing documentary "The Young Ones", his current venture is a folk band based on the music of Cumbria, where they reinterpret British Punk songs.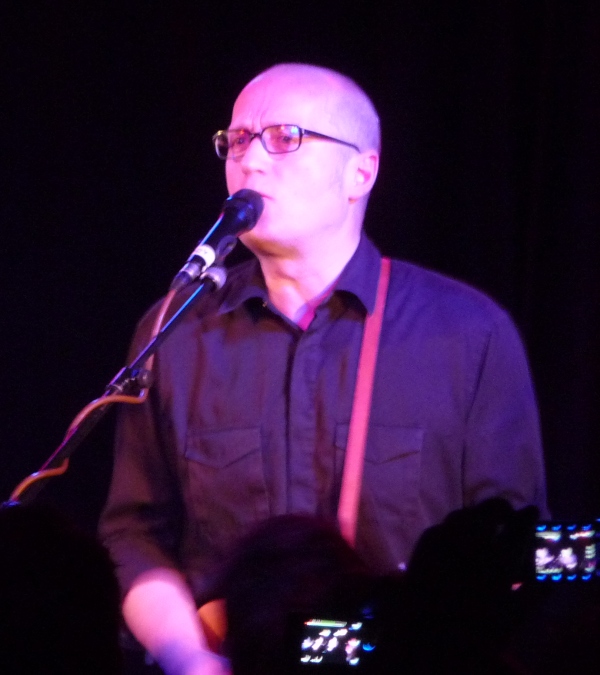 Alexei Sayle – didn't snap a photo because we saw him in an Indian restaurant around Bloomsbury, and it seemed a bit rude to get all paparazzi over korma.
Dawn French & Jennifer Saunders – admittedly this wasn't an in-the-wild spot, so much as that we bought tickets to their show at the Theatre Royal on Drury Lane.
Mel Smith – the half of comedy duo Smith & Jones with the slightly larger surface area, director of "The Tall Guy", and one of the stars of awesome yet little know film "Brain Donors".  Smith turned up in Oxford as the compere of a show that I found my way into while at a loose end several years ago.
Michael Palin – serial nice guy, world traveller and 16% of Monty Python.  I've seen him a couple of times now, but the 50-feet spotting was at a charity screening of Monty Python and the Holy Grail.  This subject of this photo appears to be the back of his neck.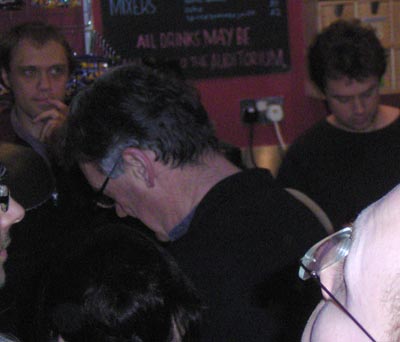 Nigel Planer – instantly identifiable as Neil from The Young Ones, now a frequent sighting in West End musicals.  When we went to see Wicked (at the time still starring the incomparable Idina Menzel) my obstinacy surrounding the purchase of show programmes meant having the pleasant surprise of realising that Nigel Planer was playing The Wizard Of Oz.  I also remarked to someone at one point that the role of Madam Morrible would have been quite well-played by Miriam Margolyes, before then glimpsing someone else's programme and discovering that the actress I'd just been watching in that role was in fact Miriam Margolyes.
Rik Mayall – the third Young One on my list: I saw him at the New Wimbledon Theatre, reprising his role as politician Alan B'Stard in the revival tour of The New Statesman.  Being in the front row, I was able to see more or less right up his cavernous nostrils.  Plus, in the show's… errm… climax, he tore open a condom packet and threw the wrapper into the crowd, which fluttered down and landed on my foot.  No, I didn't keep it – I let some wide-eyed, sweaty-palmed fangirl at it.  It's what B'Stard would've wanted.
Stephen Fry – you don't really get any points for seeing Stephen Fry in London…  don't get me wrong – I pretty much adore everything the guy does, but it would be say that if you go to a radio panel game recording you've got about a 50% chance of seeing him there.  Richie has started referring to life here as "the continuous Stephen Fry experience".  Though probably most remembered for his roles in Blackadder and A Bit Of Fry And Laurie, he's been part of the British Comedy Mafia since his days in Cambridge Footlights.
Terry Jones & Terry Gilliam – we bagged 2 more Pythons in Trafalgar Square as part of the world record attempt at the Largest Coconut Orchestra (successful).  Technically Gilliam's American, but I felt that 1/3 of Monty Python was worth an entry in this list.  The Puzzler snapped these photos, and yes that IS Terry Jones on the left.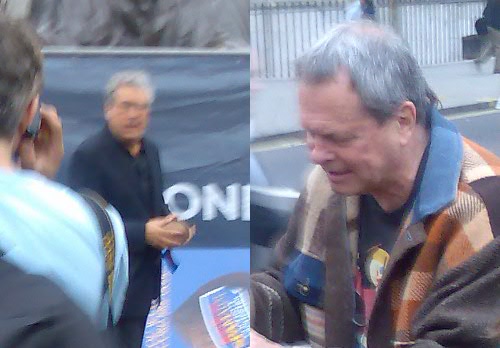 Tim Brooke-Taylor, Graeme Garden & Bill Oddie – as it was the same event where this spot took place, it counts as a single.  The occasion was the launch of their second DVD of The Goodies episodes, complete with Q&A session afterwards, at The Prince Charles Cinema off Leicester Square.  I saw one of Bill Oddie's nipples, and Timbo told me I had a "smart hat".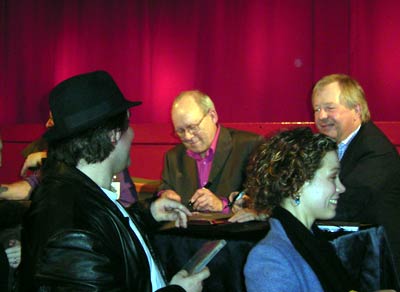 There you go – 3 Pythons, 3 Goodies, and 3.5 Young Ones (assuming you count Alexei Sayle as half a Young One).  And I didn't even have to justify including the time I bumped into Felicity Kendal in Marks & Spencers.
Top Ten Tuesday: 1970s/80s British Comedians that I've been within 50 feet of