Hello Possums!
Yet another one of those rare opportunities that crop up as a result of living here: on Tuesday night Paul, HC & I were fortunate enough to attend "The Last Night Of The Poms" at the Royal Albert Hall – a concert featuring the Royal Philharmonic Concert Orchestra, and starring Housewife Gigastar Dame Edna Everage, and Australia's former cultural attaché to the Court of St James's, and now Chairperson of the Australian Chapter of the International Cheese Board: Sir Les Patterson.
Roundly panned by newspaper critics, I have to say I enjoyed it massively – however my expectations were less for a cohesive comedy end-to-end experience, and more a chance to see the legendary performance skills up close.
Dr Sir Lesley Colin Patterson was, as you would expect, utterly vile – the silver-haired ruddy-faced rotund statesman taking stage with anonymous brown stains on his white-tie waistcoat, and leaving no doubt whatsoever to the extent of his trouseral-endowment.  As he spoke and hit hard 'p' consonants, spit would issue forth into the front few rows, looking a lot like the sea crashing against a rocky outcrop, and he'd leer suggestively at people, with his yellow dentures forming a kind of miniature jaundiced Stonehenge-of-the-mouth.  There was nothing subtle about his manner, talking of budgie smugglers, trips to Bangkok and adventures in the nearby rub&tug shop, and some delightful spur-of-the-moment behaviour (some punters walked in late, and he accosted one asking "Where are you from?  Windsor?  Get stuck on the motorway did we?  I've come from Australia.  And I managed to fucking make it on time!").  I was awed by the fact that the room was packed to the rafters with middle-England, and here was this odious man spewing grossness & profanity, yet they were lapping it up!  I wanted to see how far he'd push his luck, and push it he did – without giving away a hint of self-awareness of any boundaries.  Breathtaking.  He seemed to have marked a woman in near the front as a casual target, at one time remarking "The last time I saw a face like that, it had a hook in it".  Whilst remarking on how busy he'd been lately, he offered "I've been as busy as a one-armed taxi driver with crabs".
The bulk of the first half was Sir Les narrating an orchestral piece, entitled "Peter and the Shark".  A sort of ockerised tale ostensibly for kids but given the Patterson treatment, with instrumental interludes representing each character.  Oh man, some of the female violinists looked less than impressed when Les started lurching in their direction.  During the long expanses of music where Les wasn't narrating he would glance around the auditorium, leering, panting, occasionally adjusting his tackle with a wince…  ever present.
At the conclusion of the piece he acknowledged the choir, who as yet hadn't sung a note, with an avuncular "Look at that choir, eh?  Don't they look lovely, all sitting there…  'course they've done fuck all so far…".  Leaving the stage you could sense a palpable exhalation from the now near-sodden front rows.
The second half saw Les replaced with his diametric opposite, Dame Edna Everage.  I wasn't going to take any photos, however such was her presence that I couldn't help myself.  You knew you were in the company of an icon.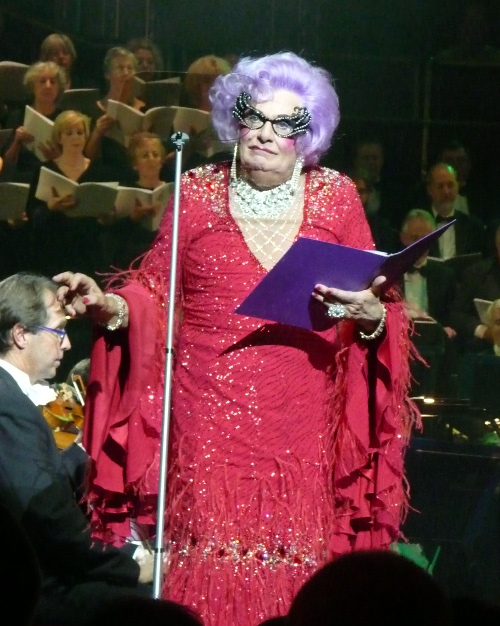 She similarly engaged the crowd in what she described as "not so much a show, as a conversation – where one of the people involved is vastly more interesting than the other".  Again, the routine was incisive and quite sharp, and her spur-of-the-moment banter left no doubt that her wit is every bit as crippling as it was when she first burst into the entertainment scene 50-odd years ago.
Again the orchestra provided a musical backdrop – this time a cantata of Australiana, with some absolutely appalling lyrics injected by Edna in her unmistakeable alto.  At one point she rhymed "peculiar" with "Imbruglia", during a little number about all the wonderful Australian celebrities making the world a better place: turgid, and magical.
In the obligatory encore, despite the increasing number of punters making good their exit, she distributed armloads of gladioli one by one into the crowd, soliloquising to nobody in particular all the time – even in the face of there being far more gladdy's to distribute than she was anticipating.  Eventually casting great bundles of them into the stalls, she mused, "I always like to do this.  I do.  And I'll tell you why.  It's because… Actually I never did figure out why I do this".  And with the foliage now disseminated she led us in a standing chorus of the anthemic "Why Do We Love Australia?" (I couldn't stop giggling at "it costs so much to go there / there's nobody we know there"), before departing with a quasi-regal wave.
Yes, general consensus is that the evening was overly long, self-indulgent, frequently tedious, and not a top-notch comedy spectacular.  Given though that the only person who's ever been able to make an orchestra sustainably amusing for an entire concert is Prof. Peter Schickele, it seems a bit much to have that expectation of this.  For what it was, I have to say I enjoyed it immensely, and was very glad to have had the chance to be there.