This post was sort of inspired by reading Wil Wheaton's recent piece reminiscing about arcade gaming.  It was a particularly memory-inducing post, because as a child of the 80's (or more accurate, a child of the mid-70's, growing up in the 80's), arcade games were a fairly present part of childhood, and who doesn't like to reminisce about that stuff, right?
Mention of arcade games is still, I think, enough to make my Mum's pupils widen in fear*.  I don't remember now how it was I went about securing an income at the age of 10 or 11, but I do recall the endless pleading with my mother for just another 40 cents, hopping from one leg to the other in impatient excitement and furtively glancing back over at the row of cabinets to make sure that nobody had taken up position in front of Rastan Saga**.
My main opportunity for playing arcade games was down at the bowling alley – Cross Road Bowl – where we bowled every Saturday morning in junior league.  I forget how long the bowling itself took, but it always seemed to be more of a prelude to the weekly gaming session than a sporting end in itself.  Often the gaming would consist of hours of standing beside cabinets watching other people playing: even at that age we were all aware of the limitations of our available means.  Plus it was cool watching other people play.  Well, not so cool for one's bowling teammates, who frequently looked up at the monitor to see that it was my turn, and of course I was nowhere to be seen – unless you cast your eyes over to the ambitiously named area of tiling labelled "Video Star Deck".  Many was the time that mum came over & earlifted me back to the lane I was meant to be on, threatening me with the inevitable trip straight home if I didn't concentrate on the bowling rather on those bloody games.
Everyone back then had a favourite game – Tristan & Brett's signature game was Teenage Mutant Ninja Turtles, Dolly's was Street Fighter, Alex's was Strider, I think Erica's was Willow, and mine was Midnight Resistance: a platform shooter which had the unique feature of a rotating joystick which dictated what direction you were pointing your gun.  I could finish that thing without losing a single life, which was less a contest of skill and more one of one's capacity to memorise a sequence of events.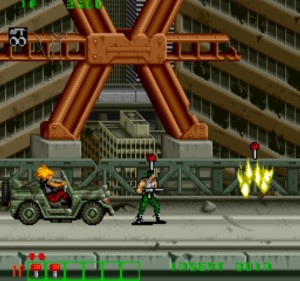 That's not to say people wouldn't swap around – I think we all had a bash at Truxton, which was a stupidly addictive shoot'em up in which you could get powerups and different weapon types, and your progress through the game was pretty well guaranteed provided you picked the right one at the right time and didn't die at an inopportune moment – doing so rendered your remaining lives a more or less completely useless gesture. (In the process of hunting for a Truxton screenshot, I found this page – which seems to have the music embedded.  If you ever played this game, hearing the music will cause memories to flood right back!)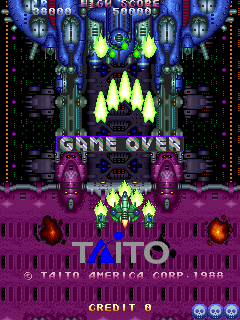 Tristan shifted to Snow Bros once – supposedly a sequel to Bubble Bobble – which I remember getting a little territorial about because I was getting quite good at it.  Once I went on a huge bender of playing Tumblepop, a Bubble Bobble style game involving dudes with Ghostbuster-y looking vacuum cleaners on their backs, touring around the world despatching greeblies.  There didn't seem to be many cool points associated with that though, but at least my skill went unchallenged.  If Alex & I were on talking terms that week, a team favourite was Final Fight.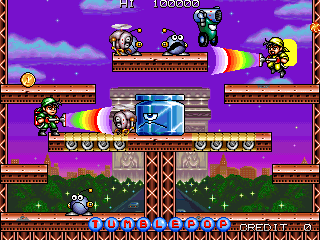 Not all of the games were a particular test of skill – the arrival of the impressively quadra-stalky Gauntlet cabinet heralded massive interest in the frenetic dungeon-delving opportunities suddenly presented, however as anyone who made a serious tilt at vanquishing it can tell you, the levels just went on, and on, and on, and the only limit to your progress was the number of 20 cent coins you had at your disposal.  Many games purported to be about skill, but were in fact about memorising a pattern and not cocking it up – in addition to the already mentioned Truxton, one day Alex & I had an earnest run at the far-from-popular D&D style adventure, Cadash.  We got up to some ludicrously high level, before being pushed off a platform by something, and then found it completely impossible to progress further in the game as neither of us were using a ranged weapon.  So much for that.
Sometimes Other Kids would come in to the bowling alley to play games – we didn't really know them, because they weren't from our social group – however skill at a game pretty much guaranteed a level of respect from the bowling crowd, hence why Hammy was the reigning expert at Wonder Boy in Monster Land, and Uhi was the Street Fighter genius who unseated Dolly.  In fact, Alex & I had a theory that Uhi played Street Fighter at Cross Road because though he was awesome, he wasn't quite good enough to get his name in the top scores at Timezone in town.
Opinion is still divided on the topic as to whether playing arcade is helpful or harmful to the development of a child – the immediate short-term harm potential was of course a hiding from mum & my teammates for the aforementioned endless timewasting…  There was always the "hand-eye coordination" justification, and thinking back on it the first ever large scale budgeting operation I ever did was the time when I'd saved up $4 (presumably after being exploited into washing 3 cars at slave wages by my perennially thrifty Dad) and set about planning out what games I was going to play with the 20 x 20 cent coins that this bounteous sum was to be converted into.   I can still visualise the page of the notebook where I'd calculated it all out, and can now recall the way the whole thing went out the window when the "Do you want to continue?" prompt came up on Cheyenne***, and like a slobbering Pavlovian canine I plunged my hand into my bulging pocket for 2 more of the little joy-bringing silver discs.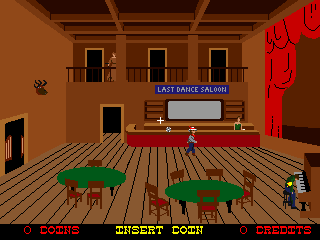 Long since gone are the arcades of the 80's and early 90's – there's still games around, but they seem to lack the appeal and the charm of what I remember stuffing coins into.  Plus you're more than likely to get thrashed by a 10 year old who comes & plays immediately after you (assuming their parents will let them go outside into the terrifying and hazardous Outside World).  It's interesting though that, in this era of powerful home gaming consoles, the arcade game still holds a lure for young minds – at least I assume it does: at the Adelaide Jamboree in 2004 I was in charge of "Humpy's Arcade", or to the casual observer, 2 sheds full of arcade games…  and from breakfast time through to closing time every day it was stuffed with kids ramming dollar coins into the slots, staring into the middle distance, madly frobnicating the controls, and swearing (except of course for the kids standing next to the cabinets, watching – see… nothing changes!).
The beauty of newfangled technology is that we can relive our arcade game days using emulator software on PCs now – the Multiple Arcade Machine Emulator project (or MAME, as it's more commonly known) allows you to play any games you can get hold of the ROM images for, from the comfort of your own desk – no need to go bowling any more!  The main downsides are that instead of the joystick & two buttons interface, instead you've got to mash keyboard commands – which is never as satisfying.  Also, as you can add credits as often as you like simply by tapping a key, suddenly the exercise becomes infinitely more boring because there's nothing at stake any more.  Infinite game continuation.
Perhaps it's all best left to Nostalgia.  Along with the perennial question of where the hell DID Shinobi keep all of those damn ninja stars?
—
* In hindsight, my Mum had a pretty rough time of it at the hands of computers during my adolescence, with not only the stress of the arcade game behaviour outlined here, but also the near constant 8-bit squeedling issuing from the TV speaker thanks to our Commodore 64 – the most heavily used & abused piece of computer hardware I've ever owned.  She confessed one day that at the time she'd been having nightmares about the in-game music for Frantic Freddie.
And that's perfectly fair enough too.
** Rastan Saga was a maddeningly tricky game – you controlled a Conan The Barbarian style hero, who progressed through levels whacking baddies with an array of bit hitty things (sword, mace, axe, flame sword).  The trick came in that the further you got through the level, the more bassy and frantic the in-game music got, to the extent where when you got inside the castle in the first level you'd often find your pulse racing and your body geared up to an excited adrenaline hyped fight-or-fight state: this made the nuance of joystick control somewhat impossible.  I often subsequently wondered if the game might not be easier with earplugs in.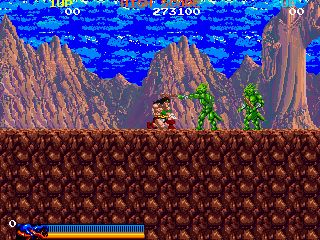 *** Cheyenne was probably the world's worst game – you had to fire an inaccurately-scoped rifle at various stuff which fell in from the top/sides of the screen and tried to maraud the dopey cowboy who sauntered about the screen.  It was Cheyenne which first gave me the idea that I had no hand/eye coordination, cos I couldn't hit the side of a double decker bus with that fucking rifle.  It was only when I worked at Camp Binachi in Mississippi in 1996 that I discovered that in fact I'm a frigging excellent shot with a firearm, earning the moniker "Quigley: Down Under" from the camp staff.  But that's another story (which I failed to tell at the time and am now unlikely to).
The piece which explains why I was always so good at counting in multiples of 4