Ongoing high-stakes game of cat & mouse between hedge fund manager Bobby Axelrod and USDA Chuck Rhoades.  We've been following this for a while now and are very much caught up in it. Corporate malfeasance, deviousness, intrigue… 👍
Summary
Billions (2016)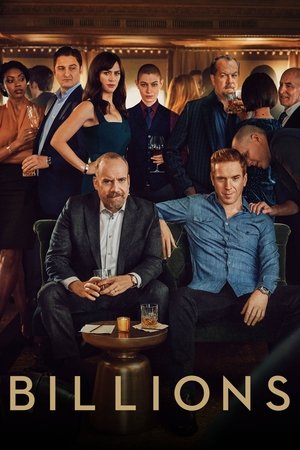 A complex drama about power politics in the world of New York high finance. Shrewd, savvy U.S. Attorney Chuck Rhoades and the brilliant, ambitious hedge fund king Bobby "Axe" Axelrod are on an explosive collision course, with each using all of his considerable smarts, power and influence to outmaneuver the other. The stakes are in the billions in this timely, provocative series.
Networks: Showtime
Production Companies: Showtime
Paul Giamatti
Role: Charles "Chuck" Rhoades Jr.
Damian Lewis
Role: Bobby "Axe" Axelrod

Maggie Siff
Role: Wendy Rhoades
Toby Leonard Moore
Role: Bryan Connerty
David Costabile
Role: Michael "Wags" Wagner

Condola Rashad
Role: Kate Sacker

Asia Kate Dillon
Role: Taylor Mason

Kelly AuCoin
Role: "Dollar" Bill Stern
Jeffrey DeMunn
Role: Charles Rhoades, Sr.
Season 1
Air date: Sunday 17th January, 2016
Episodes: 12
Season 2
Air date: Sunday 19th February, 2017
Episodes: 12
Season 3
Air date: Sunday 25th March, 2018
Episodes: 12
Season 4
Air date: Sunday 17th March, 2019
Episodes: 12