It's not often when your first post-breakfast decision to make is, "Now, which whisky should I start with?".  If you're an attendee at The Whisky Show however – and provided you've had a late enough breakfast – it's more than likely going to be the case.
Following an excellent Bar Solo breakfast, Liz & I bee-lined to The Brewery function centre near The Barbican for the shining highlight of the London whisky enthusiast's calendar.  Eagerly clutching our tasting glasses and palming our Ultra Premium Dram tokens expectantly we rounded the corner and entered the Aladdin's Cave of top shelf booze.  And I cunningly neglected to take a photo.
Starting with something light-ish, we headed for the Auchentoshan bottles – a favourite lowland malt, I grabbed a snifter of the 3 wood and Liz made for the 18 year old, which we sipped excitedly as we started wandering about the room, sizing up where to go next.  The words "option paralysis" applied here – so many wonderful, wonderful whiskies to try, and also ever present was the knowledge that if you rushed at it with too much enthusiasm you could easily write off the afternoon.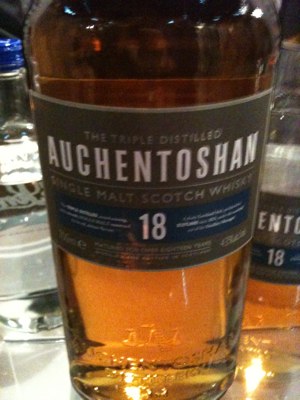 We said a quick hello to Iain from Springbank, who I'd met the previous week at the previous week's Whisky Lounge tasting, and consummate salesman that he is – he succeeded in getting a Longrow CV into each of us, then a Longrow 100 Proof for me and a Hazelburn Cask Strength for Liz (who's less a fan of smoky whisky, and didn't take completely to the Longrow).
We split up to cover more ground, and immediately next to Iain's stand were the chaps from Berry Brothers & Rudd, and I had the pleasure of meeting their spirits buyer, Doug McIvor – the chief architect of the excellent Berry's Own Selection range, which we had the privilege of tasting some of at Whisky Squad recently.  Whilst there I stopped in to try a Teaninich 1973.  About this point I resigned myself to the fact that I wasn't going to be able to make much in the way of tasting notes, having now tasted 6 whiskies in the space of an hour.
Liz had wandered off on a recon mission to see what was on offer, but she retrieved me from staring confusedly at the BOS range with the news that it was now time to try some Japanese whisky, and this made perfect sense as far as I can recall.  Between us we made our way through some Yamazaki 18, the Yamazaki "Puncheon", the Hibiki 17 blend, and Hakushu's "Heavily Peated" expression.  We chatted with a nice chap called Roger, and we all agreed that Japanese whisky is indeed excellent.  Which of course it is.  Somehow though we got chatting about the other whiskies that Suntory own, and the topic of Bowmore invariably came up.  Actually, I'm not sure what the discussional progression was exactly, but happily it wasn't very long before we were sipping a very excellent Bowmore 1992 Bordeaux Finish from the secret stash under the counter, which I can describe – the Bowmore peat was balanced nicely with woody flavours and overtones of sweet claret, which I guess came from the Bordeaux barrels.  Gorgeous stuff.
The next logical step had to be the Diageo Super Premium stand, however I'd spied a chap wandering up and back who looked a lot like Darren Rook, The Whisky Guy, only without his trademark "My Name Is Earl" style facial hair – however when I called out "Darren!" his head whipped around and I faced a newly facially en-nuded whisky guru.  The reason for Darren's de-shrubbification was of course for Movember, which gives you some idea of how long I've been procrastinating over writing this blog post.
Having seen Darren, we moved up to the Diageo stand and thought we'd chance our luck at seeing how many of their whiskies we could try without surrendering our Ultra Premium Dram Tokens.  The chap up there was talking about the Auchroisk 20 year old to a group of interested punters, and much as I wanted to give it a go, I opted for a Brora 30 instead.  Oh god, good choice.  I mean, anything from that stand would've been a joy to behold, but any day you get your face into a Brora 30 is one worth writing at least a paragraph about.
Losing focus somewhat now, we took another lap of the show floor and lingered in front of the Dalmore stand.  I remarked to Liz that I'd never gotten around to trying a Dalmore before, and now seemed like a perfectly excellent opportunity to do so.  I think the reason had always been that the most memorable bit of branding they'd done which I could remember was to release the Dalmore "Cigar Malt" – a whisky ostensibly designed to enjoy with a nice cigar.  I'm not the world's greatest cigar aficionado: primarily as the direct result of a couple of particular experiences, and hence the idea didn't leap out at me.  We learned that since the EU smoking ban nobody else has been buying it either, and so Dalmore took the cunning step of sticking a new name on it (Gran Reserva).  We rewarded ourselves with a dram of the Dalmore 15 and the Dalmore 18, and what happened next was a bit surreal.
Master Blender at Whyte & Mackay, Mr Richard Paterson, has been celebrating his 40th year working for the company and has very much been in the whisky spotlight.  Noteworthily, he's blended & assembled a limited run of 3 bottles of the world's most expensive whisky, the Trinitas 64, retailing for £100,000 each.  An energetic hive of activity (and a bit of a player), he also cuts a very distinctive figure with his famous moustache.  And that famous moustache was making its way directly towards Liz and I, surrounded by an entourage and a documentary camera crew.
For the next 20 minutes or so we got the up-close-and-personal Paterson experience, complete with threats of violence for holding our glasses incorrectly, chucking whisky all over the crowd, describing how to nose and taste whisky in quite florid and lurid ways, and getting a couple of more-than-generous helpings of the Dalmore 1263 King Alexander III – a whisky aged in 6 different types of wood, and which Richard was more then keen to point out the features of.  And very very enjoyable it was, too.
It seems foolish to describe the trying of every single whisky in detail, so skipping forward a bit, we'd had the good sense and discretion to sign on for a whisky & chocolate pairing session – the name of the chap running the tasting session escapes me, the types of chocolates we had don't spring immediately to mind, and I'd be a bit hard pressed if you were to ask me who the chocolatier was.  However I know that the whiskies that were matched with them were Dewars 12 year old blend, Dewars 18 year old blend, and an exquisite Aberfeldy 21yo (whose honey notes were an excellent match to the orangey chocolate we had).
Realising that time was slipping away, we dashed out to the restaurant area and availed ourselves of the included 2 course meal – we opted for the delicious lamb chops in orange gravy, and then dessert.  It might have been the booze factor creeping in, but I was amused by listening to a couple of chaps on our table who had come quite a distance to attend the event, and told me of The Whisky Fair – a much, much larger event in Germany in May.  Just what I needed to know.  Additionally there was Tim Hain the blues singer in the corner cranking out whisky-themed tunes.
As the shadows of the day grew longer and the ambient pitch in the main hall grew louder we returned for a further whisky and chocolate tasting, this time with Diageo ambassador Mr Colin Dunn (who we had at Whisky Squad back in summer) and chocolatier par excellence, Mr William Curley.  This time the pairing was 4 of William's chocolates to the Johhnie Walker range of blends – Black, Green, Gold and Blue label.  I always enjoy a chance to try Blue Label, and even moreso when it's at someone else's expense.  As the tasting concluded and Colin handled the panel of eedjits in the third row who were on a collision course with "festive", we suddenly realised that it was 17:45, the show concluded at 18:00, and WE STILL HAD OUR ULTRA PREMIUM DRAM TOKENS.
The Ultra Premium Dram idea was that in addition to tasting whatever you liked from the stands, each entrant could exchange this special token for a dram of whisky which was a bit more rare and/or special – the sorts of things that sell for upwards of £500 a bottle.  As there were no printed programmes for the day which listed who had what, the next 15 minutes became a bit of a blur of activity as we split up and darted around the room, desperately trying to get Ultra Premiums from our favourites.  And when that failed, and we became accustomed to the answer "Sorry, we ran out about lunchtime", the idea of getting ANY Ultra Premium became quite an attractive one.  I couldn't turn down the offer of a Port Ellen 1978 (even though it wasn't a UPD), and in desperation approached the Dalmore stand in search of their UPD.  Though they'd run out, the guy reached behind the counter and instead offered me a dram of the Whyte & Mackay 40 Year Old blend.  There wasn't time to spend too long enjoying it (although it was nothing short of gorgeous), and when I'd tried to hand over my UPD token he just waved me away.  In what was now approaching panic I shot over to the Glendronach stand and held out my glass hopefully, where the man poured me out a Glendronach 31.  Something must have caught my eye, because I walked away from the stand and necked that dram – and immediately as I felt it pass my tongue I inwardly thought, "Oh bollocks, I really shouldn't have rushed that…".
In the dying throes of the day I ran into Eddie Ludlow of The Whisky Lounge and Tim from The Whisky Exchange, so we had a bit of a chat, and the sense of urgency in the room seemed to tail off as the announcement went over the tannoy that exhibitors were to stop pouring.  The 3 of us managed to make eye contact with the nice lady on the Adelphi stand and sneak a final dram of the Adelphi Bunnahabhain 41yo.  If I'm honest, I've got no idea at all what it tasted like, but if there and then you'd asked me if I was going to book a ticket to next year's event, I'd have signed up and paid for both days, and probably signed up for your newsletter and purchased some keenly priced swampland from you.
I hope that's everything, because it's damn near a 1800 words.
The whisky that was on everyone's lips (for discussion, but sadly not for tasting) was The Trinitas – primarily wild speculation about whether and how it could possibly be worth 100 grand, and like the true tourist I am, I had my photo taken with it.  I expect it's the last time we'll see each other.
In summary, The Whisky Show was an excellent event – well-run, enjoyable, and civilised, and would make an exemplary whisky experience for novice and connoisseur alike.
I can't seem to find a way to embed it, but the guys at Connosr.com were running an excellent setup of onsite video-blogging, called WhiskyPod – and one which captured my eye was a piece about Glen Spey, followed by a song by none other than Colin Dunn and Tim Hain!
The more astute of you will have probably noticed that yes, I tasted 36 whiskies at The Whisky Show.  What a thoroughly excellent day.
The rest of the photos are in my Flickr Gallery for The Whisky Show.
Whisky galore, and more. For sure.