On Saturday afternoon (about a month ago now) when Housemate James & I returned from our mission to Essex, we got into Liverpool Street Station and thought, "We're in no particular hurry – lets wander about and have a look at some of the buildings in The City, for a change".  So we did.  It's not a part of London I get into very often, and being that of a weekend the place is pretty much deserted it's not altogether unpleasant, either.  Though you could tell it's a place where Finance has been, on a Saturday there's definitely none of it going on.
One of the buildings I'd always meant to check out was the Lloyds Shipping Register building in Fenchurch Street, because I'd remembered reading in The Pythons Autobiography that it was the building used in the pre-trailer for Monty Python's Meaning of Life, The Crimson Permanent Assurance.  We got there & snapped some photos, but it didn't seem 100% right to me, and I didn't figure out what til we got back home that afternoon.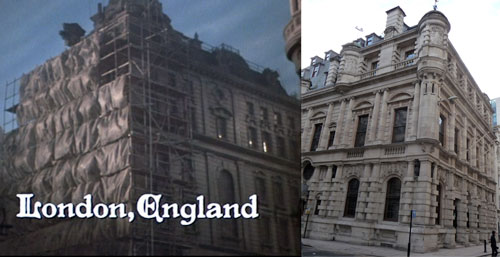 The frame from the film's on the left, my photo's on the right – they're OBVIOUSLY not the same building!  Window shape's all wrong. I was really hacked off at myself for remembering incorrectly, until I took a couple more stills from the film and found this one:

Turns out they only used the Lloyd's building for the anchor-raising scene, and from down the sidestreet rather than across Fenchurch Street as I'd initially guessed (thinking it was taken from the vantage point in the first photo.
No trip to The City would be complete without a few shots of the Swiss Re building on St Mary Axe, otherwise known as "The Gherkin".  I came down to this site on my first day in London with my brother Tim, and was glad to revisit it.  The Gherkin is of a shape and juxtaposition with its neighbours that it begs for arty & symbolic photos to be taken of it.  My attempt was to get it next to a nearby and quite old church, symbolising the development in systems of worship over time, however I suspect the meaning was unclear.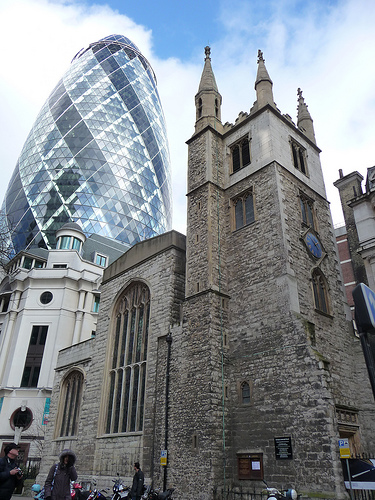 Plus a bloke was handing out free muffins leftover from a christian conference, so James & I elected to chase him instead.
We wandered past the tiny neo-Gothic church, St Michael Cornhill, and took a couple of happy snaps there too.  I'm led to believe that the church site dates to pre-Norman Conquest times (1066), however the tower is credited to Sir Christopher Wren.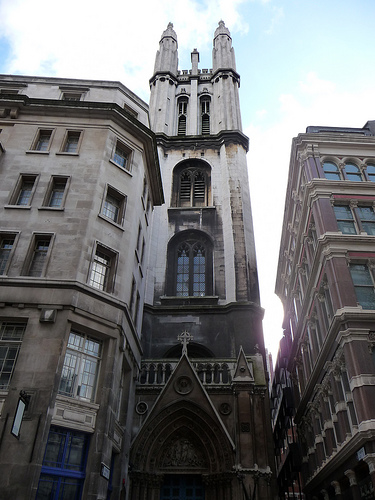 Reading the sign by the door, somebody's taken the time & energy out of their day to alter the listing "Monday 13:00 – Organ Recital" to now indicate that this time contains an "Organ Rectal".  Pure hilarity.  I can only imagine that, having scaled such comic heights, the perpetrator then went on to wander through the City scrawling extra "i"'s on to "To Let" signs.  What an inspiration to us all.
In addition to the already mentioned Lloyd's Shipping Register building, The City is also home to the Lloyd's Building – a towering metallic contraption, still keeping the facade of the original building, and again – begging to be photographed.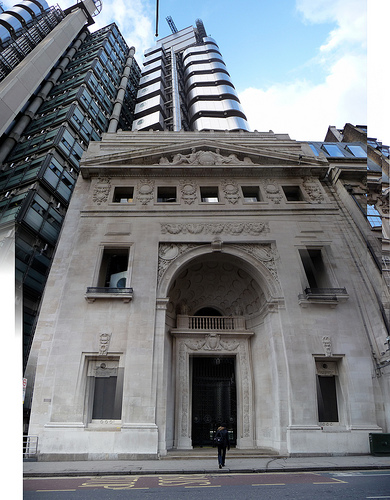 I keep thinking it'd be fascinating to see these buildings in non-ghosttown mode, but that would mean getting down to The City for about 5pm on a Friday, and I can't see myself getting fired up enough to do that any time soon.
(On the offchance you're interested, the rest of the *small* set of pics I took that day is here: http://www.flickr.com/photos/jasonbstanding/sets/72157613528147720/).