Mo + closure = mosure?
The trouble with being prodigiously hirsute is that after a relatively short interval of not shaving, one's moustache loses definition – this simply won't do, of course, and is why I had to find a moustache expert up to the lofty task of cultivating my top-lip masterpiece back to its glorious prominence.
Previous experiments in this field had left me unsatiated – my risk of life & limb in India for a barbershop shave left me bristling both with doubt, and bristles.  And the shave I had after a haircut at my usual place around the corner left me looking like someone who'd played spin the bottle with Wolverine's sister, and not done so well out of it.
My hopes were re-established however to learn of an establishment in Charlotte Street known as Mo's Moustache Emporium! As it was virtually on the way to work, I tried to think of a good reason not to go there, and failing to find one I booked myself an appointment – which took place this morning.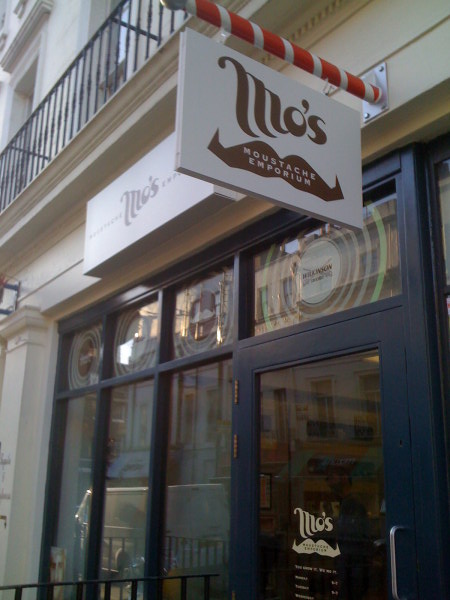 The decor was pleasantly reassuring to a London Movemberer – there are only 15,000 of us here in the UK, which means you see far fewer mo's out on the street than you probably would in Adelaide – with photos of lads in many different stages & styles of moustachioness, as well as portraits of mo icons (Clouseau, Borat, Marx, and of course, Burt Reynolds).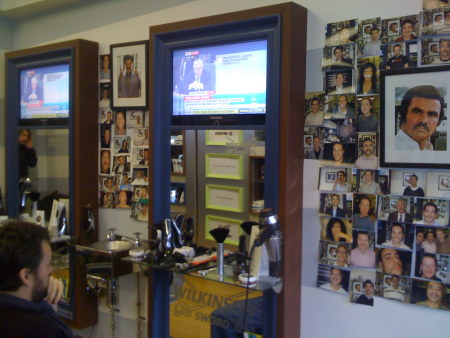 The process itself was carried out expertly by Francisco – hot towels, shaving cream, hot towel, 2nd shave, face balm, and cold towel – and I found that I'd had a faultless shave!  Finally!  And of course, my mo was restored to its former well-defined glory.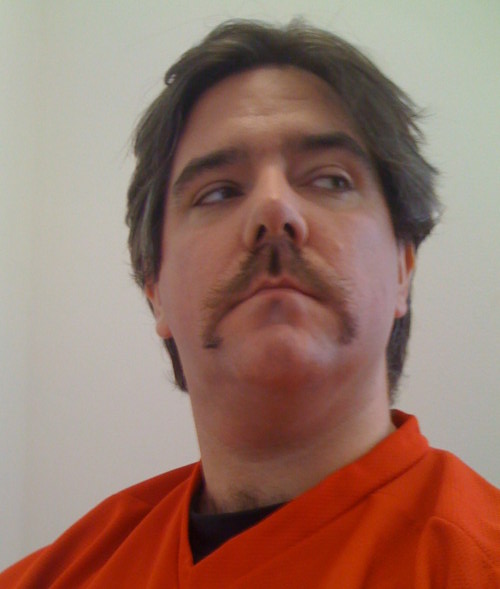 Speaking of Movember – there's a few days left, and therefore there's still opportunity to sponsor me for a few pounds.  The raison d'etre of the Movember fundraiser is to raise money and awareness of prostate cancer, and it's once again excellent to see so many guys getting on board for the cause.  If you can't afford to sponsor, or think it's stupid, then you can still pop along to my MoSpace and see the development over time that this lip-beast has had.
Notes: 1) Mo's Moustache Emporium is in fact Sharp's Barber & Shop, rebranded for the duration of Movember.  They're offering free Movember shaves, and based on the expert attention I got I'm quite certain I'll visit again in the near future.
2) The original Movember was started years before the current big-name fundraiser, by El Presidente Maledyke Donikian, Colonel Boochie R. Blight, and among others, a bloke who looks suspiciously like someone I went to primary school with.