Qype: Jamie's Italian in Bristol
Bristol – Eating & Drinking – Restaurants – Italian & Pizza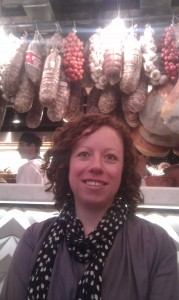 Poor Jamie must be run ragged getting around and personally supervising all the pasta houses that are springing up (about 20, so far) adorned with his cheeky moniker. We thought we'd give the recently opened one in Bristol a go. First tip is to avoid peak meal times – the website cheerfully announces "No need to book!", meaning that it's not possible to book (if you're a group less than 8), and will more than likely find yourself among the queue out the door being looked upon spitefully by the punters at Pizza Express over the road. On a Sunday afternoon however the wait was only about 10 or 15 minutes, which was plenty of time to get into a delicious crisp glass of prosecco.
An absolute must-try are the crispy polenta chips with parmesan, salt & rosemary: square nuggets of crunchy joy. The "Italian Nachos" were also a tasty way to get started – the downstairs area's decorated with loads of hanging produce and watching the planks of antipasti being prepared and ferried past us got the mouth watering good & proper.
We had a couple of little hitches with the order, but we put this down to the place only having been open a week, and our waiter calmly and capably sorted things out. If this guy was typical of their hiring strategy then they're pointing in the right direction, as he epitomised customer service. It's the little touches like introducing you to your new waitress when it's time for shift to finish. Excellent stuff.
For mains I had Rabbit Ragu Papardelle – a delicious flavoursome savoury creamy rabbit sauce on pasta which had shape and texture that had me thinking of octopus tentacles. My learned colleague had Pumpkin Panzerotti, sort of moon-shaped ravioli-like parcels of pumpkinny goodness. And to accompany we knocked down a bottle of the *very* easy-drinking Fiano, which is the closest thing to peach juice that's ever come out of a wine bottle – STUNNING!
Caught up in the excitement I think I also smashed a tiramisu in my facehole, but it had been so overshadowed by the excellent meal it will have to go down in history as "probably quite good?".
The whole lot came to about £70, which represented exceptional value for money without being in danger of being cheap. For food of such high quality in a vibrant and fun atmosphere, it distinguished itself as one of the standout lunchtimes I've had in recent memory.
About the only question I'd have would be how much parmesan does this place go through in a day – it seemed to be shredded and added to everything! Does anyone know if Mr Oliver has purchased a parmesan farm recently? If not, he's missing a trick…
Check out my review of Jamie's Italian – I am mrfrisky – on Qype